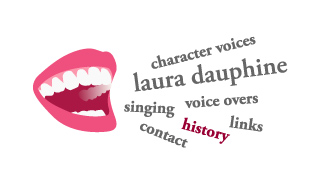 I've talked and sung around the block:

• Spoken
Over 10 years experience in voice over work in Connecticut and New York including: sponsor spots, station ID, corporate telephone message systems, and corporate presentations for live and online delivery.

• Classical singing
Over 10 years in classical music experience including: soloist with Albany Symphony, member of a variety of chamber and choir groups, including: New York Choral Society and Chamber, Judith Clurman Singers, One World Symphony, Mendelssohn Choir (Toronto).

• Other singing
Sang with back up group behind Celine Dion, Andrea Bocelli, various small jazz and Celtic venues in Albany and Manhattan. With the New York Choral Society Chamber group under baton of Richard Clark, recorded CD of Randall Thompson's "A Testiment of Freedom". Sing for a variety of Manhattan modern-classical type composers recorded as either a woven (wordless) line of music or as marking melody, for sale to recording houses, as have vibrato-lite.